News
ETC Expands Radio Coverage in Lebanon
Enhanced VHF network will improve safety for UN staff responding to the Syria crisis
The current crisis in Syria is not confined to its borders. Almost 1.7 million refugees, and people waiting to be registered as refugees, have fled the violence into neighbouring countries, prompting a region-wide humanitarian response.
In Lebanon, there are around 475,000 Syrian refugees and 80,000 waiting to be registered as refugees; more than any other country and predominantly located in the northeast and the Bekaa Valley. More than 25 humanitarian organizations, including the World Food Programme (WFP) and the UN Refugee Agency (UNHCR), are working to provide these refugees with food, shelter, medicine and other essential items.
Despite its relative safety, security in Lebanon is still of paramount concern as shells frequently land in and around towns in the region.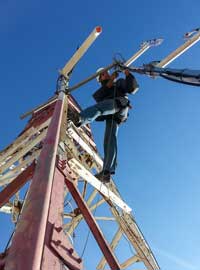 "The security risk in Lebanon right now is considered substantial. There are a variety of threats," said Elie Kortbawi, Telecoms Technician with the United Nations Department of Safety and Security (UNDSS), in May. "The crime rate is increasing and there are a number of villages in the north and east of the country that are exposed to shelling from the Syrian side of the border."
UNDSS is responsible for overseeing the security management system in Lebanon. To maintain a secure environment for humanitarian workers, VHF radio coverage is essential.
The Emergency Telecommunications Cluster (ETC), at the request of UNDSS, is working to expand and enhance security telecommunications in the region. This will improve the safety of humanitarian staff, as well as enhance inter-agency coordination.
"We've linked repeaters in Arsal and Hermel to the radio room in Beirut," says Rob Buurveld, Senior Specialist with WFP's Fast IT and Telecommunications Emergency and Support Team (FITTEST). "This means humanitarian workers in the north can communicate directly with offices in the capital. In Tarshish, we installed a much bigger antenna, providing much wider VHF coverage, and in Tripoli we upgraded a radio room and installed new wiring and power cabling."
Prior to the upgrade, radio coverage was limited to certain pockets, meaning that staff working on refugee operations were severely constrained in who they could talk to. Now, humanitarians can communicate in all common operational areas. In such a complex operation, this is vital; if all other communications fail, VHF will be the backup.
"Connecting the repeaters to the radio room is a big success as WFP and UNHCR operate throughout the entire area," says Elie. "Since the repeater in Hermel was upgraded, staff in 90 percent of the Bekaa Valley can communicate with Beirut. It has helped us immensely with staff tracking, but it also allows us to send advisory warnings to staff."
The upgrade hasn't quite finished. There are still some antennas that need changing and radios need to be programmed to the new frequencies (equipment has already been dispatched) but already, the benefits are obvious.
"There's a huge improvement in telecommunications here," says Elie. "It has increased the safety of all UN staff, particularly those on mission."
---
Photo caption: Rob Buurveld installing a repeater antenna in the Bekaa Valley.