Workshop
Workshop - Technology uses in the Caribbean
The Emergency Telecommunications Cluster (ETC) in collaboration with the Ministry of Information, Science, Telecommunications and Technology and the Office of Disaster Preparedness of Dominica are conducting an Emergency Preparedness & Response (EPR) Workshop. Details of the workshop are as follows:
Workshop theme: Technology uses in the Caribbean 
Date: 22 – 23 March 2018
Location: Roseau, Dominica
The workshop is hosted by the Government of the Commonwealth of Dominica's Ministry of Telecommunications at the Office of Disaster Management premises in Roseau and is organised by the World Food Programme (WFP).
The workshop aims to:
discuss the various technology services and resources used in the Caribbean in 2017
provide an overview of existing technical solutions as well as the innovative uses of technology to further improve IT response in emergencies
discuss and identify next steps.
Day one of the workshop will focus on presentations and working group discussions around operational topics related to emergency preparedness and response in the Caribbean. Day two will focus on hands-on demonstration sessions on some of the technologies used during the 2017 response in the Caribbean.
For additional information about the workshop please contact: global.ETC@wfp.org.
Hosted by: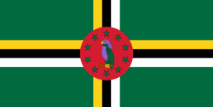 Under the global leadership of: