Global ETC Teleconference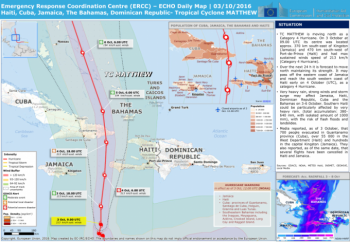 An initial Emergency Telecommunications Cluster (ETC) information-sharing teleconference to discuss category-4 Hurricane Matthew, currently making its path through the Caribbean region. 
Hurricane Matthew is predicted to be one of the strongest hurricanes in the Atlantic in years, with devastating impact for Jamaica, Haiti and possibly Cuba. The heavy storm has so far affected parts of Jamaica, but further damage is expected as the hurricane moves north. The Governments of Jamaica and Haiti have issued warnings, urging populations to evacuate the risk zones.
Agenda:            
Update from the ETC Focal Point for Latin America and the Caribbean 
Update from the participants
AOB
To participate in the call, contact: Global.ETC@wfp.org  
Login
to activate your subscription and receive e-mail notifications.