Blog post
Q&A: On working with the Emergency Telecommunications Sector in Nigeria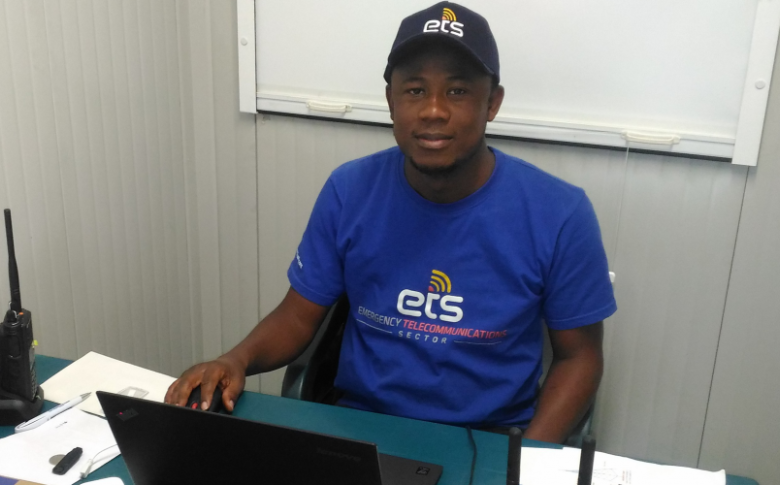 Only one country separates Nigeria from Togo, where Dosseh Lassey, a World Food Programme (WFP) security telecommunications specialist is from. In January, he left his job in Lome to join the Emergency Telecommunications Sector (ETS) operation in Maiduguri, a city dominated by yellow keke-napep, widely-used tuk-tuks, where the honking horns play an urban melody.  After a few weeks in Maiduguri, he tells us what it's like to be deployed to an emergency operation with the ETS for the first time.
How did you feel when you were asked to deploy to Nigeria?
Totally excited, especially since it is my first time in an L3 [humanitarian system-wide emergency] operation. I was looking forward to going to the field and gaining the emergency experience. I would lie if I said I wasn't a bit worried before departure, especially after reading the news about North-East Nigeria, but my enthusiasm about this new chapter took over.
What were your expectations?
As my assignment is only for three months, I hoped in this short period to make my skills and knowledge useful for the ETS and the people we serve, working hand in hand with the rest of the team. Also, working with colleagues with more experience in emergencies and from various backgrounds will be helpful to grow professionally.
Tell us something challenging about the operation in Nigeria.
The hardest part of being based in Maiduguri and in the north-east part of the country is security. At the same time, it is rewarding knowing that a good team on the ground, like the ETS, can provide the much-needed communications services even in dangerous zones.
What did you know about the Emergency Telecommunications Sector (ETS) before working with us?
The basics, honestly! I knew the ETS operates in Nigeria, instead of or in place of the Emergency Telecommunication Cluster (ETC) due to the specific needs of this operation. The ETS is still delivering the same inter-agency services such as security telecommunications and internet connectivity in emergencies. I have never had the chance to work with the ETS until now, but I was interested in the training courses the ETC delivers to build the skills of Information and Communications Technology (ICT) staff like me.
What is your main takeaway from the Nigeria operation?
Apart from the professional experience, I've met wonderful people, committed to their work, ready to share knowledge and with a strong sense of teamwork. This mission gives me another insight to ICT work in emergencies and the experience gained will contribute a lot to my professional development.
---
By Erika Iglesias, WFP IT Emergency Preparedness & Response