Blog post
Iraq: Connecting Qayyarah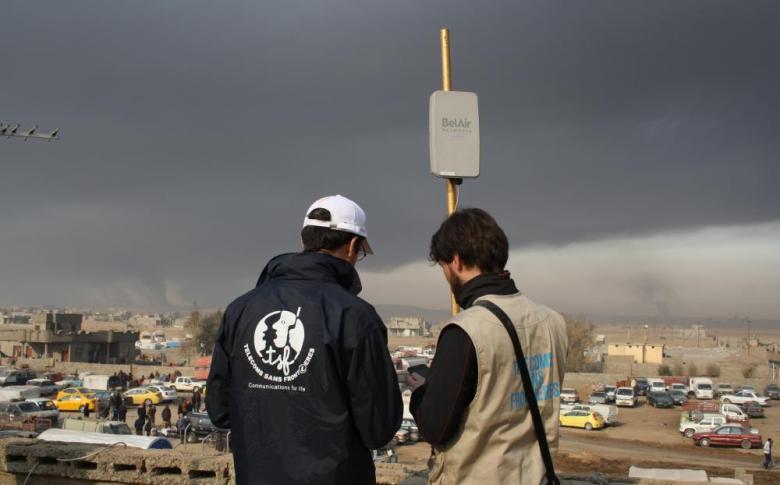 At 07:30 on Sunday morning, Sébastien and Florent from ETC member, Télécoms Sans Frontières (TSF), a UNOPS team member and I were standing next to two armoured vehicles in the UN compound in Erbil. The drivers were scraping ice off the windscreens with the engines revving. With the sky streaked wintry pink, we stamped our boots on the ground and waited to head off to Qayyarah to check on the vital ETC services deployed there.
On the road, we passed the town of Makhmur, famous for its white cement, numerous security checkpoints, former ISIS strongholds and Al-Qayyarah bridge, now destroyed. We slowed down to drive over a pontoon bridge across the Tigris. "Can you swim?" said our Croatian security officer from the front, drolly.
The drop in temperature in Qayyarah was striking: one degree Celsius. We arrived at Mercy Hands office in Qayyarah town, around 60km south of Mosul, where Sébastien and Florent went straight up to the roof to start working on replacing a key piece of equipment so that Internet connectivity services would be restored. From the rooftop, we could see the black plumes of smoke from the burning oil wells that filled the sky. The smoke was so thick it blocked out the sun – light and warmth – casting the whole place in an eerie white light, lending an apocalyptic feel to the already desolate landscape.
As the TSF guys worked on the roof, I spoke with Sabry Hammed, the Coordinator of Mercy Hands in Qayyarah. As I balanced my notebook on the wall, I glanced down and saw a small cow curled up in a ball in the mud. Sabry pointed out a now-disused ISIS headquarters in the next field. The building was like the others – drab, blackened and empty – before explaining the urgent need for connectivity.
"The Internet is very useful to us as we need it to send Mercy Hands data. Usually, we have to go into Qayyarah town to get the Internet but it is a very bad connection and we cannot send big files like pictures or emails with important data about IDPs in Jad'ah and the Airstrip camps. We have been sending it monthly on a disc."
Nineteen people work in the Mercy Hands office in Qayyarah from where they distribute Family Food Rations (FFR) kits in Jada'ah camp, Mosul and Qayyarah Airstrip camp. They rely on the Internet to coordinate these lifesaving distributions. We walked over to two large WFP tents next to the office that house these kits while Sabry listed what each kit contains: 2x 15kg bags of white flour, 1x 15kg bag of rice, 1x 5kg bag of sugar, 1x 5kg bag of borghul, 1x 5kg bag of chickpeas, 1x 5kg bag of horsebeans or lentils, 4.5 litres of vegetable oil and 500g of salt. After a couple of amusing minutes with Sabry saying 'horsebeans' again and again while I insisted I had never heard of them, he poked about in a bag to find some to show me - they look like broad beans.
The work took a good four hours in the end, with Sébastien poking his head over the top of the roof to update us now and then. At last, he leaned over the roof to ask if I could get online. With frozen fingers, I stabbed about on my phone; the ETC login page appeared like a mirage. We were back in business at Mercy Hands.
 "Ah," said Sabry, beaming. "Now it's lunch."
---
By Suzanne Fenton, Information Management Officer, ETC Iraq