Blog post
ETC provides VHF coverage in IHP overnight camp in southern Mosul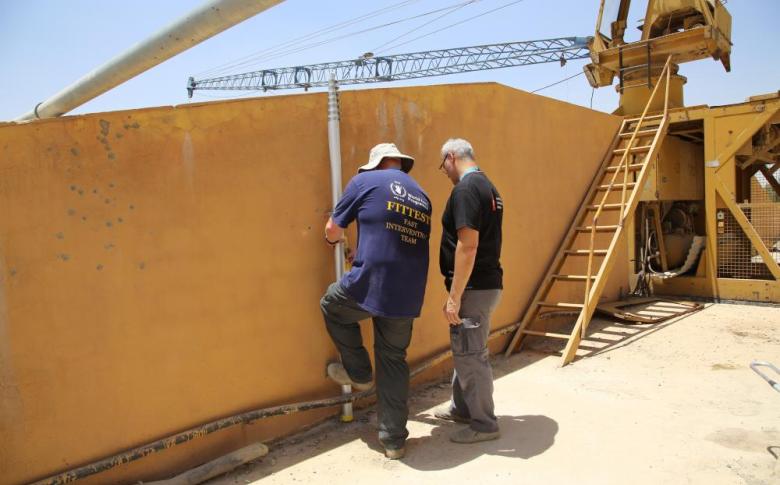 Head south from Scorpion Junction (Al Aqrab) on the road from Erbil and you'll come across the Athbah trauma field hospital, just 15km from the frontlines of west Mosul that was established to treat casualties from the city. It is a sand-coloured complex, blending in well with its dusty environment. At the back of the hospital compound are two small containers that make up the International Humanitarian Partnership (IHP) overnight camp that will be used to sleep a maximum of nine UN staff.
It was decided to establish the overnight camp to enable UN staff to spend more time in the field and therefore respond to IDPs in the area more efficiently as the drive time from Erbil to Athbah is between 3-4 hours due to the many checkpoints and the time taken to secure escorts and armoured vehicles.
The project is being led by IHP member, MSB (Swedish Civil Contingencies Agency) who will hand it over to WFP once the project is complete.
Athbah hospital compound is on the site of an abandoned cement factory so the ETC telecommunications specialist from WFP's Fast IT and Telecommunications Emergency Support Team (FITTEST) together with the Logistics Officer from MSB had to scope out where to install the telescopic antenna as a great chunk of cement factory was in the way.
In 46 degrees with not a shred of shade to be found, the team found a suitable place to drill holes in a wall already riddled with bullet holes to erect the base of the antenna. The compound was strangely silent under the blazing afternoon sun. Doctors in green and blue scrubs took quick coffee breaks in the dining pre-fab and labourers pressed themselves against walls to stay in the shade while they worked to dig an emergency exit for vehicles at the back of the compound.
The antenna, and the cables are now all laid and linked up to the IHP overnight camp. This will provide VHF radio coverage to allow UN staff who stay in the camp to keep in radio contact with Erbil Communications Centre (COMCEN), ensuring their safety and security while in a volatile location.
By Suzanne Fenton, deployed as ETC Information Management Officer in Iraq