Blog post
ETC Internet empowers Syrian refugees in Arbat camp
If you ever have the opportunity of driving along the winding road that connects Erbil with Sulaymaniyah, the cultural capital of the Kurdistan Region, you will notice the multiple checkpoints and improvised markets that characterise the journey. 
As we found ourselves surrounded by the majestic Goyzha and Glazarda mountain ranges, Habib Shashati, a security telecommunications specialist from the World Food Programme's (WFP) fast IT, telecommunications and coordination support services team (FITTEST), Muslih Abdullah, an ETC Information and Communications Technology (ICT) assistant and I realised we were entering Sulaymaniyah. Just 25 km past Sulaymaniyah city, we finally reached Arbat camp, home to over 7,000 Syrian refugees. Kids ran across unpaved paths while grown-ups went about their daily grocery shopping in the countless stores doting the main street set the scene of this bustling camp and captivated us.
Established in August 2013 as a transit site for Syrian refugees, not a shred of evidence exists nowadays in Arbat that suggests tents once populated the camp. Those temporary accommodations have given way to concrete block houses. The few things that have remained consistent throughout the camp are the shared Internet connectivity and security telecommunications services established by the ETC back in 2014 to enable humanitarian activities.
After more than three years supporting humanitarians, the ETC wanted to make a positive impact on the lives of the young Syrians residing in Arbat. In July 2017, the ETC started collaborating with WFP to extend Internet services to Arbat Community Centre to support WFP's Tech for Food pilot. Under this pilot, 100 refugees were trained in July and August on basic digital skills including data entry, image annotation and Microsoft Office as well as learning English to link them after to working opportunities online.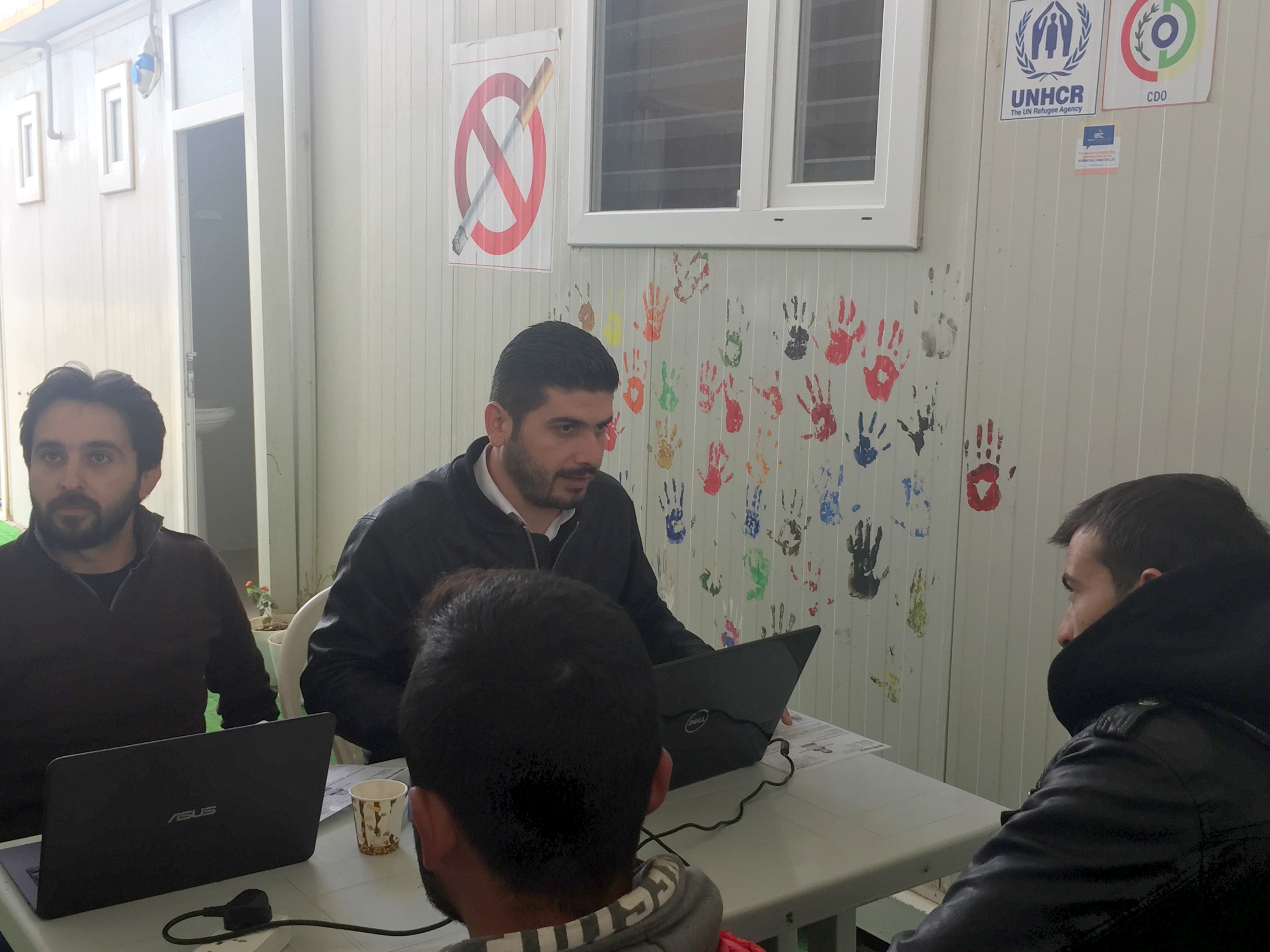 Before the second batch of 50 refugees start their classes in January 2018, the ETC wanted to conduct maintenance work on the Internet services to ensure a smooth end-user experience. Practice makes perfect. While these students attended the American University of Iraq, Sulaimani they needed a space in camp to work on what they had learned. ETC Internet services at the Community Centre allowed these refugees to consolidate their skills, keep their professional profiles up to date and look for jobs.
As soon as we arrived at the Community Centre in Arbat, we were welcomed by Sandra Raad, coordinating the Tech for Food project in Iraq. She explained that in the past two days, a significant number of young Syrians between 18 and 35 had taken an online skilled-based entry exam to apply for the next cycle of this programme.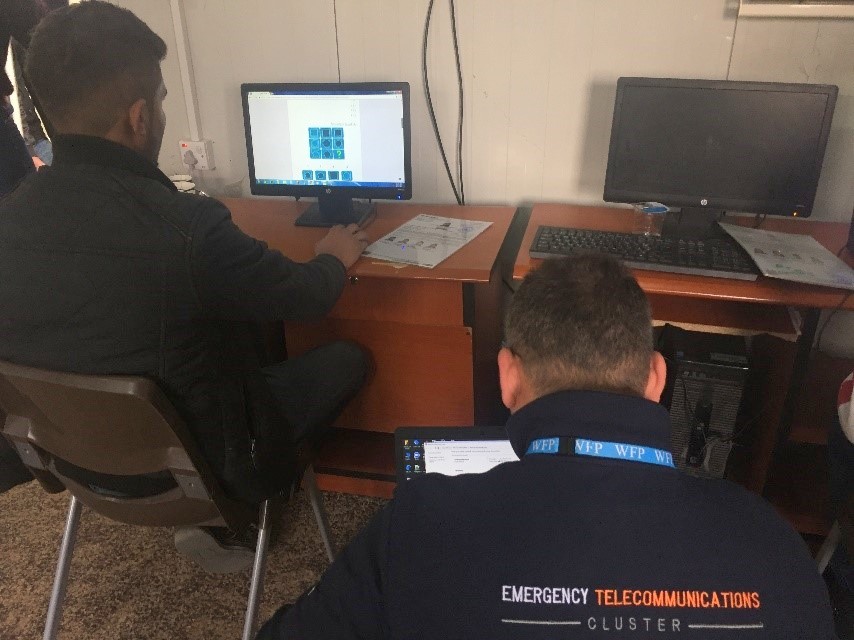 "Tech for Food is different from any other programme that Arbat residents have been involved in as it aims at improving their livelihoods, reducing the risk of social exclusion", Sandra explained. 
When I went into the computer lab where the entry exams were taking place, I could feel the mix of anxiety and hope in the air. But even with their nerves on edge, these Syrians' eyes sparkled with the chance at improving their career prospects.
Speaking Turkish, Arabic and Kurdish is not enough for Mahmod Kalo (34) from Qamishli who is now determined to learn English. "I work in construction and my boss speaks English", he said. "Communicating with him in the same language will improve our relationship and expand the possibilities of working together in more projects". English training is one of the attractive learning components offered by Tech for Food.
Born in Qamishli and raised in Damascus, Shaven Hassan Alali (21) came accompanied by her father who was strongly encouraging her to continue her education. "I want to gain technology-related skills as these are the most in-demand in today's job market. This programme will help me get a better job in the future", Shaven concluded.
Everybody deserves an opportunity to grow professionally, especially the most vulnerable ones. While the almost 190 prospective students who applied for the next edition of the Tech for Food are hoping to be accepted in the programme, the ETC will continue providing reliable Internet connectivity services to empower Syrian refugees in Arbat to help them reach their full potential.
In line with the ETC2020 strategy which aims at ensuring all those responding to emergencies, including affected populations, have access to vital communications services and digital aid and under the ETC Services for Communities initiative (S4C), the ETC in Iraq is constantly looking into innovative ways to better assist the affected communities.
---
By Erika Iglesias, deployed as ETC Iraq Information Management Officer, IT Emergency Preparedness & Response branch, World Food Programme