ETC Coordination Course
Format
6 days, for 12-20 participants in classroom with practical exercises, self-study modules to be completed PRIOR to course start.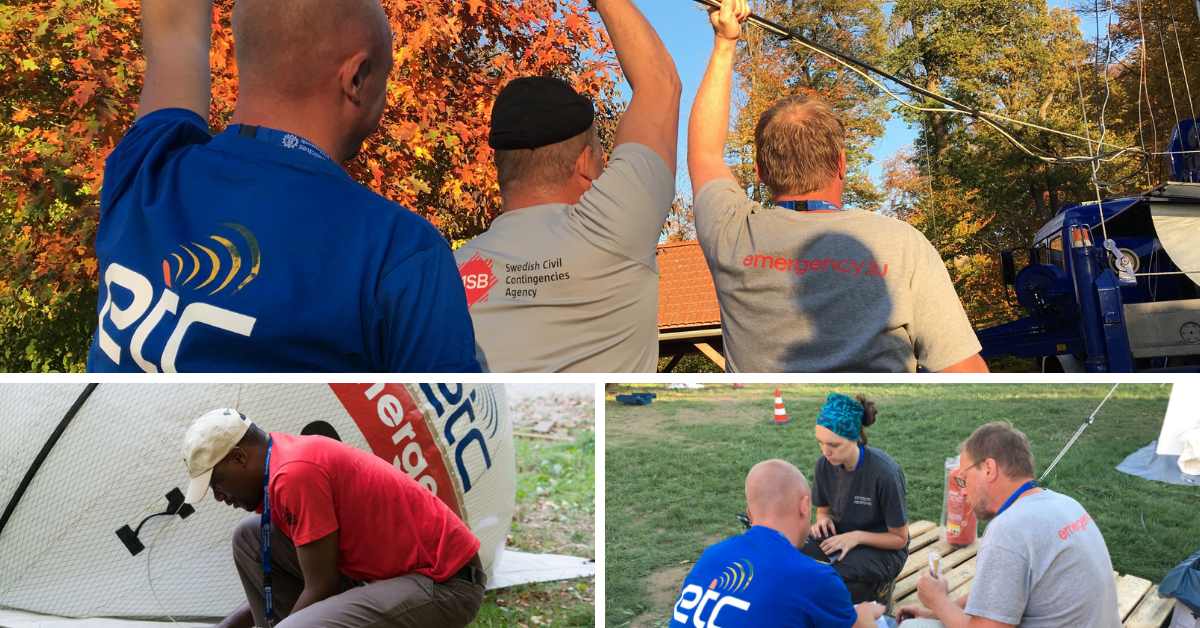 As the provision and use of ICT services becomes more critical for effective humanitarian emergency response, so too is the effective leadership and coordination of providing these services. The ETC Coordination Course is designed to equip humanitarian responders with the knowledge and tools to enable them to coordinate, or support the coordination of, ETC or ETC like emergency operations. Prepared in close collaboration with a range of ETC humanitarian partners, this training will be held in Rome and is open to applications from UN agencies, stand-by partners and NGOs.
Objective: To equip humanitarian responders with the knowledge and tools to coordinate, or support the coordination of, ETC or ETC-like emergency operations. 
 
WHO SHOULD ATTEND?
ICT / humanitarian responders who are likely to coordinate or support the coordination of humanitarian ICT emergency responses and / or related field projects.  Applicants should be experienced professionals with some experience of operating in an emergency response environment and who are capable and likely to be deployed to or support humanitarian emergencies in an ICT capacity.
TRAINING OBJECTIVES
During the training, participants will:
Develop a personal emergency preparedness and deployment plan
Develop a Concept of Operations (CONOPS) Plan based on inputs gathered
Present, pitch, negotiate and resolve conflicts in relation to the CONOPS

Practice planning, communication, and coordination skills aimed at strengthening partnerships amongst the ICT community.
TOPICS COVERED
Humanitarian principles and context (self-study)
Cluster response approach (self-study)
Legal considerations for humanitarians (self-study)
Agreements and conventions (self-study)
ETC mandate and services (including new ETC services)
ETC activation and deployment
Operational planning inputs

Development of the CONOPS

Funding sources and processes
Presenting to stakeholders

Leadership and management

Information management
Project planning and implementation considerations
Cluster and inter-cluster coordination and communications
Conflict resolution
ICT emergency preparedness
APPLICATION PROCESS
Applications are now closed. 
1. Application Form
Please fill the application form online (here) and submit a screenshot showing successful completion. (Note that incomplete forms will not be considered)
2. Nomination letter meeting the following requirements
Must come from a manager that is responsible for emergency IT and telecommunications (or related applicant's field) across the applicant's organisation globally (example, a CIO, Director or Chief of IT and/or Emergency Preparedness and Response, or even a Regional IT Officer for field staff).

 

Be written on organisational / company letterhead

Full name, organization and position title of the candidate being recommended

Full name, organization and position title of the nominator

Contact information of the nominator (email address / phone number)

A statement indicating that the candidate will be released from 18 – 23 March 2019 inclusive (plus travel time)

A statement that all expenses related to travel to / from the training will be covered by the nominating organisation.  (Please note that there is no cost for the training itself and all accommodation / meals during the training will be provided.)

Confirmation statement outlining at least ONE of the following:

-ICT/humanitarian experience in one or more of the ETC service areas (data connectivity, security telecoms, power solutions, ICT information management, S4C, emergency preparedness, drone operations) from a technical, field and emergency perspective, and/or

-Experience in leading / managing or directly supporting deployment of ICT services and / or Services for Communities in a humanitarian context

​​​

A statement indicating the likelihood / ability of the candidate being deployed to the field for an emergency in the future.
3. Letter of Motivation
Must be written by the applicant and is a letter indicating how they will use the knowledge and experience gained to support future humanitarian ICT responses.  The letter will be assessed based on:

Clarity and conciseness (no more than ½ page)

How the skills learned will benefit humanitarian efforts in your location or agency.

How often you will use the skills gained.

How much support you have from your manager to take on roles that will allow you to use these skills.

If already in a humanitarian and/or ICT response role, how these skills will impact your current operation.
SELECTION CRITERIA
Applications will be considered based on the following criteria:
Ability to be deployed to a humanitarian response

Experience in leading and managing people and projects

Humanitarian response experience