News
Timbuktu Sees Return of Humanitarian Operations
ETC is deploying to provide secure telecommunications to aid organizations
Humanitarian presence in Timbuktu has been restricted since fighting broke out in Mali over a year ago. But following military intervention in January, security is slowly returning to the ancient Malian city; and with it, the humanitarian community.
Hot on their heels is the Emergency Telecommunications Cluster (ETC), which, following two earlier assessment missions, is deploying to provide radio and planned data and telecommunications services to the humanitarian community.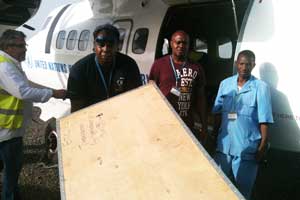 "In the last three months a number of organizations have moved in, including the United Nations Children's Fund (UNICEF), the Office for the Coordination of Humanitarian Affairs (OCHA) and the International Committee of the Red Cross (ICRC) as well as some clusters," says ETC Coordinator Nyanaprakash Muniandy. "But they're operating without secure communications. The ETC is going to change that."
The deployment will be conducted in two phases: in phase one, a 36 metre radio tower and two repeaters will be installed to provide basic security communications. Phase two is dependent on the security situation, and is planned to be a full rollout, including a fully-equipped radio room and data connectivity.
While Timbuktu is considered safe enough for humanitarian operations to commence, the town is still not entirely secure. Consequently, all humanitarian organizations will be restricted to one compound and movement around the town will be severely limited. Security guards will be deployed to protect the communications equipment.
"Life is slowly coming back to Timbuktu," says Nyanaprakash. "But the humanitarian community's presence there will speed up the return to normality and encourage people to return. The ETC needs to help the humanitarian community deal with that process."