News
Responding to Typhoon Haiyan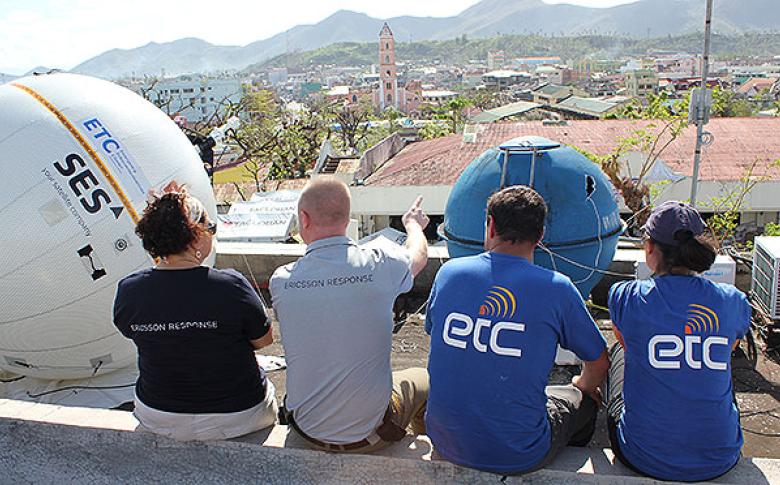 At 4:40am on November 8th 2013 Typhoon Haiyan slammed into the Visayas region of the Philippines. What was initially thought to be just another tropical storm in the disaster prone country, will go down in history as one of the strongest storms to make landfall - ever.
With windspeeds in excess of 300km/h Typhoon Haiyan carved a path of destruction across the Philippines, wiping out entire towns and generating storm surges of up to sixs metres. Crops, buildings, infrastructure: all were devastated. Thousands of lives were lost.
Five months later, and the recovery and restoration of affected areas have been remarkable. "What I find fasincating about this emergency is the resilience of the Filipino people and their goodwill," says Aleksandar Dulovic, Emergency Telecommunications Cluster (ETC) responder from the World Food Programme (WFP). "They go around smiling, no matter what. They're willing to help, always. Everyone's been so cooperative."
This cooperation is evident in the fact that international relief agencies are already demobilising in many areas. National authorities, local organizations and communities now have the capacity to manage on their own. The ETC too is scaling back operations, migrating humanitarian workers from emergency wireless networks to commercial providers as local telecommunications systems come back online.
"The ETC mandate is to provide services only where gaps exist with local providers," says John Bursa, ETC Coordinator in the Philippines from January to mid-March. "We're now working to connect humanitarian workers with the local telecommunications companies, who are rapidly restoring services, to facilitate migration off ETC networks. We aim to demobilise all emergency telecommunications services by mid-May."
ETC staff were deployed less than 24 hours after the typhoon struck to fill the communication gap caused by severe damage to telecommunications infrastructure. The effect of these 'information blackholes' in humanitarian response is two-fold. Affected communities can't reach the outside world, and aid organizations are unable to efficiently communicate needs, delaying the delivery of relief items.
The destruction in Tacloban was immense. All the internet, phone and electricity infrastructure was completely destroyed.
At the height of the response, the ETC was providing telecommunications services in 30 locations across nine towns and cities. Over 6,400 humanitarian workers registered to use ETC wireless networks; the highest number ever. The ETC Response Solution developed by emergency.lu, Ericsson Response and WFP was fundamental in deploying services to the hardest hit locations in Tacloban and Guiuan. The light-weight inflatable satellite dish from emergency.lu can be flown into a disaster area along with the responders, inflated and aligned to rapidly provide internet connectivity.
Since January, the ETC has demobilised 21 sites, migrating humanitarian workers to commercial Internet Service Providers and shipping out equipment. 
Key to the success of the ETC in the Philippines has been cooperation and teamwork. Save the Children, NetHope and their partner BT were instrumental in setting up wireless networks in Borongan and Roxas, hooking up BT VSATs to Ericsson Response Wireless LAN in Disaster and Emergency Response (WIDER) technology and providing internet to over 600 humanitarian workers. In Tacloban, Irish Aid deployed an electrician to help resolve power supply problems while ETC and government representatives helped scope out areas to install a VHF radio repeater. Plan International, NetHope and Save the Children worked with the ETC to assess and map NGO requirements across the country, ensuring targeted service provision.
"Cooperation in this emergency has been fantastic," says Gisli Olaffson of NetHope. "We worked as a team. No one cared what logo is on their sleeve, it was just about providing services to the humanitarian community. It's exactly how clusters should work."