News
Mobile Operators Emphasise Communications Needs for Communities in Disaster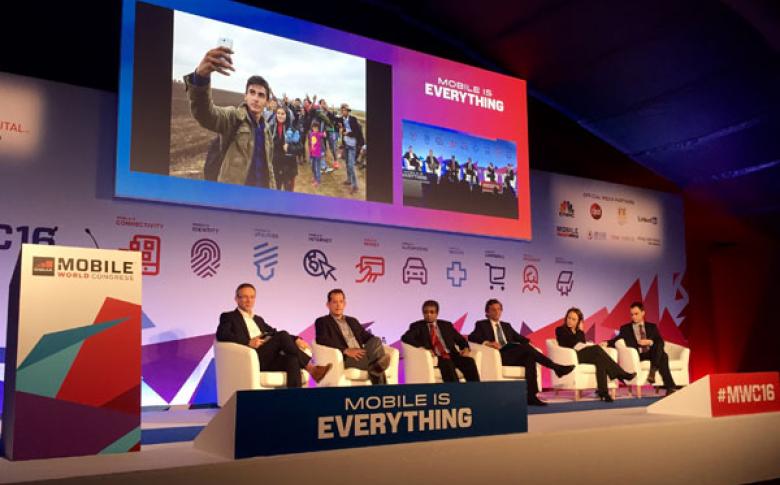 GSMA Mobile World Congress 2016 highlights technology needs of disaster affected communities
Three leading operators become signatories of the GSMA Humanitarian Connectivity Charter
Mobile technology is a vital tool for those impacted by crisis - While perhaps not a particularly revolutionary statement to the humanitarian community, when discussed, debated and deliberated by some of the most influential people in the mobile sphere, the rest of the technology industry will listen. As the number of people across the world affected by disaster increases, ensuring their life-saving needs are heard - and met - is paramount.
Thought leaders in the mobile and humanitarian sectors discussed the evolving role of mobile technology in humanitarian crises at 2016 GSMA Mobile World Congress, the world's largest exhibition for the mobile industry. Pierre-Guillaume Wielezynski, Deputy Director of IT, World Food Programme (WFP) participated in the panel on behalf of the Emergency Telecommunications Cluster (ETC) alongside speakers from Developing Telecoms, Axiata Group, Souktel Digital Solutions, Telefonica and ETC member, Ericsson.
"As the world becomes more digital, so does humanitarian assistance," says Pierre-Guillaume Wielezynski, Deputy Director of IT, World Food Programme (WFP). "Digital Aid is assistance which is distributed digitally rather than physically, and is transforming the way the global community responds and interacts.
"Mobile technology is critical for the millions of people around the world, especially those affected by disaster. Not only is it their means to communicate, but it provides an efficient and effective way for them to access vital information and life-saving assistance."
Representing the interests of nearly 800 Mobile Network Operators (MNOs) and more than 250 companies across the world, GSMA was an active contributor to development of the ETC2020 strategy and continue to support ETC2020 activities.  
In 2015 GSMA launched the Humanitarian Connectivity Charter, a common set of principles to enhance coordination within and among Mobile Network Operators before, during and after a disaster. Signatories work towards the adoption of initiatives focused on humanitarian connectivity to create a more coordinated and predictable response to disasters. The Humanitarian Connectivity Charter is supported by the ETC.                                       
"Mobile networks and the connectivity that they provide can be a lifeline to those affected by natural disasters and other humanitarian emergencies", said Kyla Reid, Head of Disaster Response at GSMA. "As such, Mobile Network Operators face growing expectation and demand for the services they provide before, during and after crises. The Humanitarian Connectivity Charter acts as an umbrella initiative for these activities, increasing coordination and predictability of response. We are very excited about the growing commitment from the mobile industry in building capacity to face the growing challenge presented by humanitarian emergencies and we welcome our the new signatories to the Charter."
At Mobile World Congress 2016, it was announced that three additional leading operators had become signatories to the Humanitarian Connectivity Charter: Telefonica, operating in Latin America and Europe; Millicom, operating in Latin America and Africa; and Zain Group operating across the Middle East and North Africa.
"We live and operate in a region where the cost of human suffering as a consequence of war and natural disaster is all-too apparent," said Jennifer Suleiman, Head of Corporate Sustainability & Social Responsibility at Zain Group. "Thus it is not just our responsibility but our duty to band together and render whatever assistance is possible, particularly at times of extreme need, and we are up to working closely with our peers to achieve this under the banner of the Charter."
The ETC vision strives to ensure that by 2020 all those responding to humanitarian emergencies – including affected populations - have access to vital communications services. Commitment, collaboration and partnership with the private sector is fundamental to realising this vision.
By coming together as an industry to enhance connectivity in emergencies, GSMA and charter signatories support the ETC in strengthening the capacity of local communities to lead response efforts in a more accountable humanitarian environment, and facilitate access to digital aid. 
---
By Mariko Hall, Global ETC Cell