News
Let's Comm Digital 2016 Completed in Sweden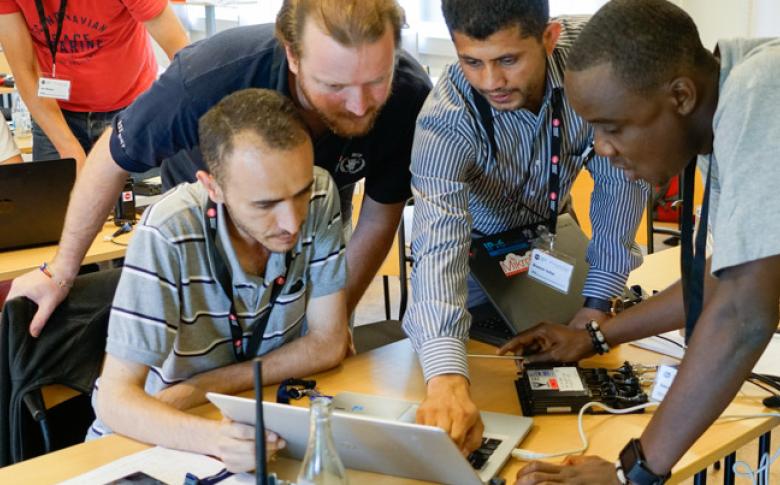 When Chris Alagna and Rob Buurveld, senior specialists from the World Food Programme (WFP) Fast IT and Telecommunications Emergency and Support Team (FITTEST) were assigned to deliver a Let's Comm Digital training course in Sweden, they couldn't have been happier. The idea of leaving behind the heat of Dubai and spending a week surrounded by participants hungry to learn everything about Digital Mobile Radio (DMR) was the best of plans.
Emergency Telecommunications Cluster (ETC) member, the Swedish Civil Contingencies Agency (MSB) hosted the intensive 5-day training course for 12 participants from MSB, the Government of Luxembourg and WFP, who had the opportunity to get their hands dirty and familiarise themselves with the digital radio system.
"Having such an engaged group of participants made the instructors go the extra mile and cover in more depth some of the modules of the course," says Rob. "Let's Comm Digital is also a forum where humanitarian ICT staff share their experiences on the ground, enriching the overall learning experience," he continues. 
Let's Comm Digital is one of the ETC's foremost trainings. As global lead of the ETC, WFP engages FITTEST to deliver this course which covers all stages from designing and planning VHF/UHF digital networks to planning an analogue to digital migration. This training course enables participants to maintain and support DMR networks in the humanitarian emergencies/operations in which they are deployed.
During the course of the week, Banabas Nunoo, one of the MSB participants, was assigned to a DMR mission in Cameroon, a country well-known to him from previous deployments. "LCD has given me additional skills and enhanced my capacity to deploy DMR in Cameroon. Having the opportunity to apply what I have learned straight after the completion of a training is a unique coincidence," Banabas says.
DMR is the short to medium range radio communication standard adopted by the ETC because of its multiple features, such as private one-to-one calls and GPS tracking, which improve the safety and security of the response community in emergency operations.
---
By Erika Iglesias, IT Emergency Preparedness and Response Branch, WFP