News
ETC Launches New Website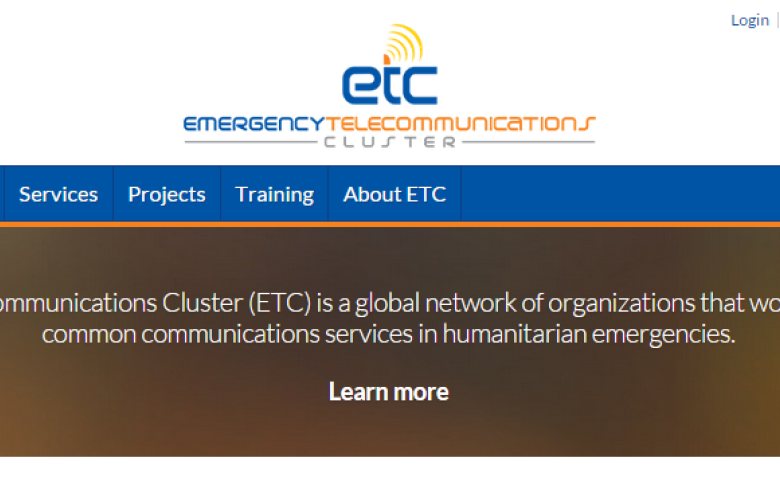 Equipped with better design, better functionality and better navigation, the Emergency Telecommunications Cluster (ETC) launched its new website this week at www.ETCluster.org 
The new website aims to provide: operational support for ICT responders in emergencies; information about the ETC, its services, activities and impact; and a channel for Global ETC Coordination as the network strives towards ETC2020. 
The website is divided into seven key areas: Emergencies, Countries, Services, Projects, Training, Discussion Forum and About ETC, encouraging information-sharing and collaboration. 
Enhanced Functionalities
New functionalities, including the Discussion Forum, allow users to more easily interact with the site and the community. 
A search function has been included enabling users to quickly find the information needed to support their emergency operations. Users can filter information by country, emergency, document type and release date. 
Instant User-Registration
Like the old website, to benefit from all features and access all operational information, including contact lists and minutes, users must have a registered account. While all existing accounts must be re-create d, the new website is developed to automatically register users from more than 70 humanitarian, private sector and government organisations that already frequently use the ETC website. This also allows faster registration of users - especially important in emergencies. 
Available for all Ongoing Emergencies
All information for Central African Republic (C.A.R.), Iraq, Nepal, South Sudan, Syria, West Africa and Yemen emergencies has been migrated to the new site, along with Training pages. Content remaining on the old site will be migrated over the coming months. Until then, it will still be accessible through ictemergency.wfp.org/web/ictepr/countries. 
The new ETC website is a cohesive, focused and user-friendly platform to facilitate effective and efficient humanitarian ICT emergency response. 
For more information, see the Frequently Asked Questions.