News
Charters Committed to Enhancing Communications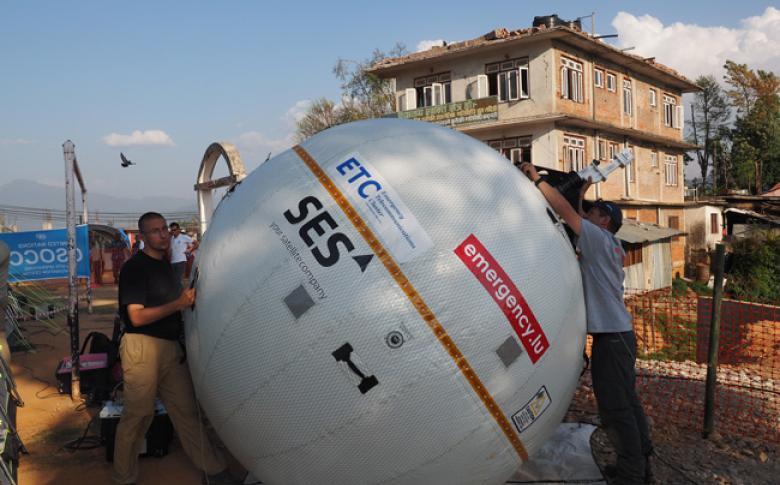 Satellite Community signs Crisis Connectivity Charter in Support of Humanitarian Operations
Communities affected by disaster must be at the centre of humanitarian response efforts before, during and after crises. Strengthening the capacity of local communities to respond to emergencies is a pillar of the Emergency Telecommunications Cluster (ETC) 2020 strategy and theme of the World Humanitarian Summit (WHS) Global Consultation which starts today in Geneva, Switzerland. To coincide with the first day of the event, world-leading satellite operators have launched and signed the Crisis Connectivity Charter. 
The Crisis Connectivity Charter is a set of commitments by the satellite community to enhance connectivity in times of crises, facilitating communications between – to – from – and across all those responding to humanitarian emergencies, including affected communities. 
"The Charter seeks to ensure improved access to communications services in humanitarian emergencies, and with satellite services we can save lives, said Jakob Kern, Chair of the ETC and Chief Information Officer of the World Food Programme (WFP). "Through the Crisis Connectivity Charter and the ETC network, we endeavour to ensure that by 2020 all those responding to disasters, including affected people, can communicate to respond, recover and redevelop." 
Principles of the charter include strengthening partnership between satellite industry, government and humanitarian sector; enhanced coordination to enable prioritization of humanitarian internet traffic during disaster operations; prepositioned satellite equipment; as well as training and capacity building. The Charter formalizes protocols designed to accelerate access to satellite-based communications when local networks are affected after a disaster and seeks to support the ETC network in implementing cluster activities.  
Established by the EMEA Satellite Operator's Association (ESOA) and Global VSAT Forum, the Crisis Connectivity Charter is a direct outcome of a WHS Business Consultation hosted by the Government of Luxembourg and ETC in June 2015. 
Aarti Holla, Secretary General of ESOA, said "ESOA is honoured to have led this effort on behalf of member satellite operators who collectively deliver global coverage and connectivity. We have to recognize that number of crises around the world is increasing both as a result of climate change and geo-politics. As a result, the unique ability of satellite solutions to help save lives is becoming indispensable and the Charter will enable the ETC to trigger pre-positioned satellite solutions in any one of their 20 high-risk countries or beyond."
In addition to the ETC, signatories of the charter include ETC members UN Office for the Coordination of Humanitarian Affairs (OCHA), Global VSAT Forum and the Luxembourg Ministry of Foreign Affairs' partner SES. 
Connectivity allows more accountable humanitarian action, improved disaster resilience and empowers local people to cope and recover from crises with dignity. "Through mobilising their members in this way, the satellite community is supporting the ETC in realising its 2020 vision and the entire response community in saving lives," said Jakob.