Tropical Cyclone Idai- a category 3 cyclone- made landfall in Beira, Mozambique's fourth largest city, on 14 March evening, bringing with it high wind speeds of up to 224km/h and heavy rains. Cyclone Idai the strongest tropical cyclone to affect Central and North Mozambique since Tropical Cyclone Eline which struck the country in February 2000, claiming at least 800 lives.
Heavy rains have already killed about 100 people in Mozambique and Malawi while 103,169 people have been affected by the floods in the Mozambiquean provinces of Zambézia, Tete and Niassa. At least 17,095 people are displaced in Zambezia, Tete and Niassa sheltered in 15x transit centres.
The ETC deployed one staff member from FITTEST to Mozambique on 16 March to carry out assessments in the affected areas and set up common communications services to facilitate humanitarian response activities, if necessary.
ETC partners Ericsson Response, the Government of Luxembourg, ITU and Télécoms Sans Frontières have mobilized resources and communications equipment to support the augmentation of communications services to the humanitarian community in the affected areas. 
The ETC has also activated the Crisis Connectivity Charter - Eutelsat and Inmarsat have deployed connectivity equipment and SES is providing bandwidth to further support response efforts. 
Since March 22, the ETC is officially activated and a system-wide L3 emergency has been declared in Mozambique.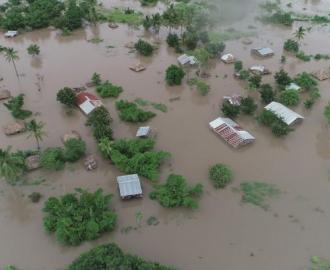 Mozambique Cyclone Idai. Photo: WFP
Receive Updates
Login
to activate your subscription and receive e-mail notifications.
Funding Status
Percentage received:
0.00 %
Communications services from local providers in Beira, the most affected city, are not operational. Satellite phone voice services in the affected areas are not reliable.
After the cyclone, power outages have been reported in Beira. Electricity from the city power grid is expected to be unreliable until the end of March.