This Emergency is no longer active.
Emergency
Côte d'Ivoire: Post-Election Conflict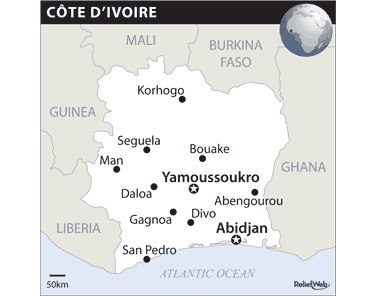 Just one month after Côte d'Ivoire's contested presidential elections on November 28, over 15,000 Ivoirians have fled to neighbouring countries amid escalating violence. The UN Commissioner for Human Rights has cited reported human rights abuses, including nearly 200 people killed, and further violence in surrounding areas has also been witnessed.
Disagreement between the Electoral Commission, which announced opposition leader Alassane Ouattara winner, and the Constitutional Court, which declared former president Laurent Gbagbo winner, has resulted in brutal attacks between their respective supporters across the world's top cocoa growing country.
Ouattara has been recognized as President by a number of States and International Organizations, including the African Union (AU) and the Economic Community of West African States (ECOWAS). Gbagbo's government, however, has signalled he is unlikely to bow to international pressure and cede control to Ouattara. Threats have been made by Gbagbo's government against the UN and French in Cote D'Ivoire.
In addition to the possibility of plunging the country back into civil war, the conflict across Côte d'Ivoire could result in a humanitarian crisis as tens of thousands of Ivoirians flee to safety in bordering countries including Liberia, Guinea and Ghana.
An Emergency Telecommunications Cluster (ETC) officer is ready to deploy to Cote d'Ivoire to support emergency efforts and assist the humanitarian community in ensuring that the security telecommunications infrastructure is in place.
All information on IT emergency operations in Cote d'Ivoire can be found in the Forum.
More information can be found on the Cote d'Ivoire country page