Blog post
Arriving in Beira: Connectivity amid chaos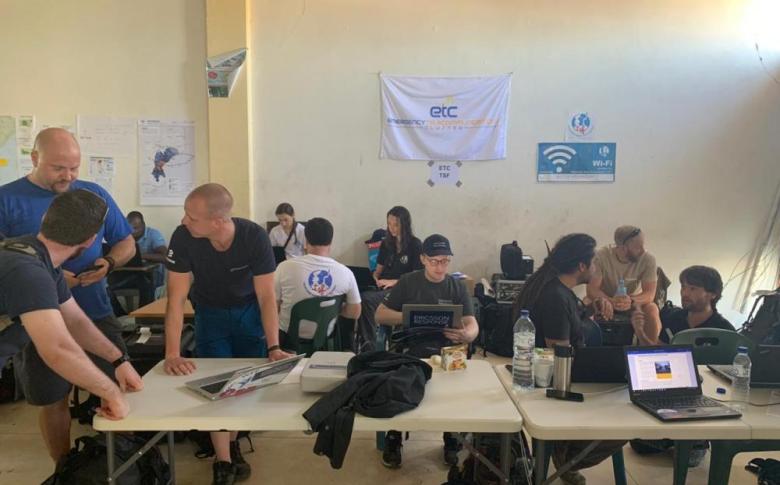 Turn immediately left after the arrivals hall at tiny Beira airport and you will find the humanitarian operational hub – a sweaty, airless room except for one door that leads on to the runway. It is buzzing with activity. Ten days after Tropical Cyclone Idai struck the coast of Mozambique, swathes of the country have been destroyed, villages and towns fully submerged, desperate parents looking for their children. So much water thundered across Mozambique that an inland ocean measuring 125km by 25km – the size of Luxembourg – has formed. 
Having Internet connectivity remains a top priority for most humanitarians who are for now primarily based in Beira. Since the crisis began, nearly 300 humanitarians are using ETC Internet connectivity to help them deliver life-saving aid. The affected communities most in need are out there – in and around Dondo, Chimoio and Buzi and in the settlements springing up to accommodate the rescued and the homeless –  being able to connect and communicate is a lifeline. All day, the ETC team hosts a steady stream of users. A team is going to Chimoio tomorrow to establish Internet connectivity for responders there.
The rains have cleared now. The room is hot and heavy with humidity and without luxuries like air conditioning or a fan (although there is a rumor that one might arrive this week) and everything is operating despite the surrounding chaos. Every now and then, the blades of a helicopter lifting off or landing outside sends a massive gust of air, ruffling operational maps and plans stuck on the walls with tape, and offering momentary cooling. Even the deafening sound of rotor blades can't cover the racket of conversations, chats, meetings and phone calls.
For now, ETC personnel and humanitarians here in Beira continue to work late into the night to make sure assessments are done, planning continues and information is available. Our collective goal is simple: provide humanitarian assistance in all its forms to those who have lost their homes, their livelihoods and much, much more.